Australia is endowed with a variety of caves of different sizes and in numerous locations throughout the country. They hold a diversity of animal species that are worthy of protection and many have been protected for their intrinsic value in reserves and parks including World Heritage Areas.
There is still a great deal of exploration of caves by ASF members occurring and the wealth of knowledge gained is used by governments, land owners and cavers to assist in the protection of the karst environments, as well as allow access to caves.
More general information on Australian caves and karst can be found in:
Webb, J., Grimes, K. & Osborne, A., 2003: Black Holes: caves in the Australian landscape.
pp. 1-52 in B. Finlayson & E. Hamilton-Smith (editors) Beneath the Surface: a natural history of Australian caves.University of New South Wales Press, Sydney
Australian Karst and Pseudokarst Areas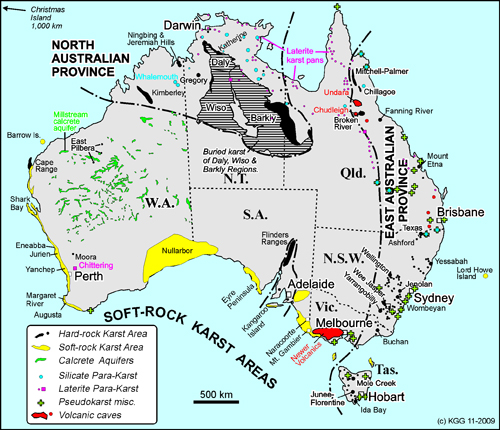 Acknowledgement:
Map by Ken G. Grimes
More information on clubs in each state is found on the State clubs page
The terminology used in caving can be downloaded here.